A first drive of the new Ferrari Purosangue
The latest addition to the brand's stable is a four-wheel drive grand tourer. Just don't call it an SUV
Receive free Cars, bikes, planes and boats updates
We'll send you a myFT Daily Digest email rounding up the latest Cars, bikes, planes and boats news every morning.
Since Ferrari pulled the covers off its four-wheel drive Purosangue in September 2022, the carmaker has gone to great lengths to point out it is not an SUV. Brands such as Lamborghini, Aston Martin, Porsche, Maserati and Jaguar have openly branched out from sports cars into high-riding, family-friendly off-roaders. Ferrari has remained steadfast in its commitment to making "sports cars that embody the Ferrari ethos of driving thrills", according to the Purosangue's product manager, Pietro Virgolin, during the car's media test drive in the Dolomites in February.
Fast approaching its eighth decade in the business, Ferrari is celebrated for its rich heritage in Formula One and for developing highly tuned V12 sports and supercars. Yet the carmaker has also quietly crafted a reputation for making highly capable grand tourers. "While the Purosangue is a completely new car for us, this concept is probably the most historical because we've always made two-plus-two sports cars," adds Virgolin.
Back in the 1950s and '60s, 2+2 was a name given to two-door coupés that featured small back seats that could be used to carry passengers or luggage. Ferrari produced some of the most elegant examples, starting with the 250 GT 2+2 in the early 1960s, which went on to spawn Ferrari's grand tourer bloodline, of which Enzo Ferrari was particularly fond.
Fast-forward 60 years and the Purosangue has become the most radical incarnation of a grand tourer yet. Sporting two conventionally opening doors up front and two rear-hinged doors at the back, it's big enough to transport four adults in comfort, although taller passengers in the rear might struggle with the reduced headroom from the coupé-like roofline that gives the car its sporting silhouette.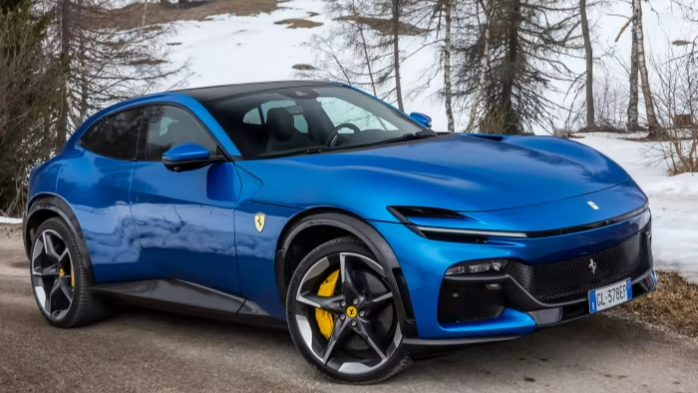 Sitting somewhere between Lamborghini's bonkers off-road Sterrato supercar and an all-out performance SUV, the Purosangue does not lay claim to any extreme off-road credentials. Quite the opposite: Ferrari is keen to emphasise the Purosangue's on-road performance while acknowledging the "different" ground clearance and sophisticated four-wheel drive system that will allow owners to take on bumpy lanes and hold the road come rain, shine or, in our case, snow.
Countering the trend towards electrification, the Purosangue (from £313,120) champions Ferrari's 6.5-litre naturally-aspirated V12, which delivers 715bhp and covers off the 0-62mph dash in 3.3 seconds before topping out just before 200mph. On paper, it has all the makings of a traditional Ferrari sports car and, out on the twisting mountain passes above Trento, so it proves. Through the corners, Ferrari's clever four-wheel steering disguises the car's 2.1-tonne mass, making it as agile as its dynamic looks would lead you to believe. While less aggressive to drive than other cars in the Ferrari stable, the Purosangue is more than capable of being playful, particularly in Sport mode and with the traction control off.
Switching between the modes is done via a sturdy, twistable Manettino knob on the steering wheel, which otherwise features haptic touch buttons that can be tricky to operate on the move. On either side of the wheel sit two metal paddles, used to cycle through the Purosangue's eight gears in manual mode. For more reserved moments, the car happily transforms into a tame town car, capable of crawling in traffic without the jerks, squeals and gratuitous revs, pops and bangs often experienced with performance cars.
The car holds up well both in town and out on the twisty lanes, but it's on an open stretch of road where the Purosangue's V12 comes into its own. With a quick downshift on the paddles as the preferred way of getting things moving quickly, it's possible to feel the full force of the car's 716Nm of torque. As swansongs for the combustion engine go, this is a particularly powerful one.
True to its word, in the Purosangue Ferrari has created something that has very few rivals. To create a new motoring niche in an age of model saturation is a challenge, requiring imagination and creativity, but to execute it well is harder still. "Right from the word go, we really embraced this idea of a new Ferrari – a type of Ferrari that had never been in the range at all," says Ferrari's head of Centro Stile, Flavio Manzoni.
Promoted Content
Follow the topics in this article